The NPT is a nonprofit, membership-based organization with a focus
on the preservation of the island's historic architecture. We provide programs that explore the architecture and history of the island, and strive to increase awareness of the importance and fragility of our architectural heritage. Of special concern are Nantucket's historic interiors that are not protected by local government regulations and are often threatened by insensitive "gut rehabs."
OUR MISSION: To preserve Nantucket's historic architectural heritage for present and future generations.
OUR BELIEF: Nantucket's historic architecture is a unique and valuable asset that is a very important part of what makes the island special and has had a positive influence on our community.
OUR GOAL: To educate, inspire and encourage historic preservation across the island by involving all aspects of our community.
OUR HOPE: That you will join us in working to preserve our past for the future.
Our focus is preserving the island's architectural heritage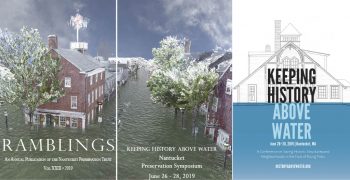 Other island organizations focus on the island's history, its flora, fauna and open spaces, but there is no other nonprofit organization whose primary concern is the preservation of Nantucket's unique historic resources.
Although preserving the appearance and context of our historic buildings is central to Nantucket's economic and social appeal, the affluence of the past decade has posed new threats. Gut rehabs destroy centuries of historic elements and insensitive new construction and build-out in the historic cores' threatens our historic streetscapes. Each year scores of historic properties are altered without considering the irreplaceable qualities that led to the Nantucket's designation as a National Historic Landmark.